Dear visitor! We've seen many local businesses with expired security certificates, broken plugins and themes, and sadly, with completely outdated information on their website. All of this does affect your brand name! With Mega, your business will look healthy and professional online. Our web services are extremely affordable:
Our complete $299 package includes:
Domain name registration for 1 year (.com, .net, .org, .us or .biz). If you already registered domain name elsewhere, we'll refund $15.95;
Free commercial grade SSL (security certificate Sectigo) for 1 year;
Reliable web hosting services in New York data center for 1 year;
Professional email services for up to 100 separated users. Access your email (using your domain name) via secured webmail or POP3/IMAP/SMTP;
Simple website development based on reliable WordPress CMS;
Free backups and security updates for 1 year;
Free data updates for entire year! If you need to upload new price list, add new services, new photos, change phone number or any other information on your website, we can do so free of charge (up to 4 times per month!)
Free Search Engine Optimization (SEO).
How much would it cost after 1 year?
You'll pay only $15.95 per year for domain name renewal (if domain name was registered with us) and $64.26 per year for web hosting services in New York (email is included too). Websites updates (weekly) + weekly backups, security updates & monitoring will cost $99 per year. Please contact: admin@megadiscounter.com or phone: 1-646-595-0555 for more information.
cPanel server management: $23.95/month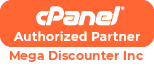 cPanel management services are now available for only $23.95 per month per dedicated server or VPS. We'll update OS and cPanel, backup (1 TB of secured data storage included), secure PHP and MySQL then monitor uptime externally for only $23.95 per month.
Mega Discounter is authorized cPanel partner. We offer cPanel licenses and management services since 2020. For more information please contact: admin@megadiscounter.com